Prep 20 mins
Cook 35 mins
If you are tired of plain old mashed potatoes, this is a nice change, and so yummy. Note: cooking time does not include boiling potatoes.
Directions
Set oven to 325°F.
Grease a 2-quart casserole dish.
In a bowl, stir together cream cheese, garlic, pepper, chopped green onions (if using), salt, egg, and sour cream until smooth; set aside.
Boil potatoes; drain.
Mash potatoes until smooth.
Add sour cream mixture, mix until smooth.
Spoon into baking dish.
Dot with butter and sprinkle with paprika.
(At this point, potatoes can be stored in the fridge and baked later).
Bake, covered for 25 minutes, (45 minutes if stored in the fridge).
Uncover, after 25 minutes, and continue baking for 10 minutes more.
If desired 1 cup grated cheddar could be sprinkled on top of potatoes the last 10 minutes of baking.
Most Helpful
We enjoyed this for our mother's day dinner with fried chicken. My daughter thought it had too much sour cream and garlic in it, but I thought it was find. It did need a lot of salt and pepper for our taste. May add cheese to it next time. Thanks Kitz for a wonderful side for my Mother's day.

I liked the creamy/garlic flavor of this recipe, but I had a problem with one thing. Step #5 says to "Mash potatoes until smooth", but there is no liquid listed other than the sour cream mixture to make the potatoes 'smooth'. I tried mashing without and the potatoes were grainy...so I added the sour cream mixure and it still was not enough liquid to make it smooth...so I added some milk until it seemed smooth enough. (Note, I did weigh my potatoes and had the right amount) I also added a measure of 1/2 teaspoon of salt. My family really like this instead of 'plain old' mashed potatoes.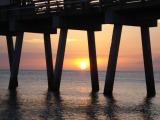 this was really good, a wonderful side dish to pork chops. i did add grated cheddar cheese for the last 10 minutes. i used hot paprika for color. i also used fresh scallions and chives from my garden.