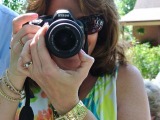 I used this recipe a lot when my kids were younger and it was helpful to have part of supper ready ahead of time. Especially because babies ALWAYS seem to be fussy when it is time to make dinner. Works great for company or potluck too.
Directions
Peel and cook potatoes until tender.
Mash potatoes with onion salt and sour cream.
Add butter.
Place in a 2 quart casserole dish and press down slightly.
Top with cheese. Refrigerate overnight. Bake at 350°F for 1 hour.
Reviews
Most Helpful
Loved these potatoes, wonderful flavor, a flavored cream cheese like onion/chives would be a good addition as well. Very easy to make and you can make as much or as little as you want.

I made this with new red potatoes- cooked then mashed with the skins on. I also used extra sharp cheddar cheese ( i used only about 1/2 cup)And I didn't refridg overnight --the potatoes tasted great! Thank you
Thanksgiving Tips & Ideas >