Parsley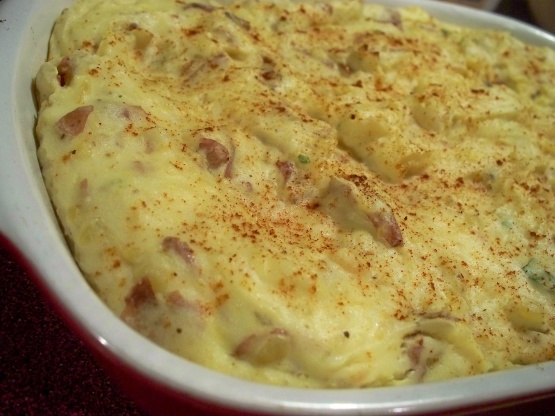 Nice and creamy. I use low-fat products, but use the regular if you like. If I'm using red potatoes, I don't bother to peel them.

Excellent recipe! My family loved this and finished it all. We aren't really potato lovers, so it has to be really good to get eaten up. I made it exactly as directed. Thanks for sharing - I will be making this again and again.
Preheat oven to 350. Grease a 2-qt. casserole; set aside.
Boil the potatoes until tender and mashable.
Drain potatoes and return to pot.
Mash potatoes with the butter, cream cheese, sour cream, milk, mustard, salt, pepper and garlic powder. Mash to desired smoothness.
Stir in the chopped scallions and beaten eggs. Mix well.
Pour into the casserole.
Sprinkle with paprika.
Bake at 350 for 30-35 minutes.