marisk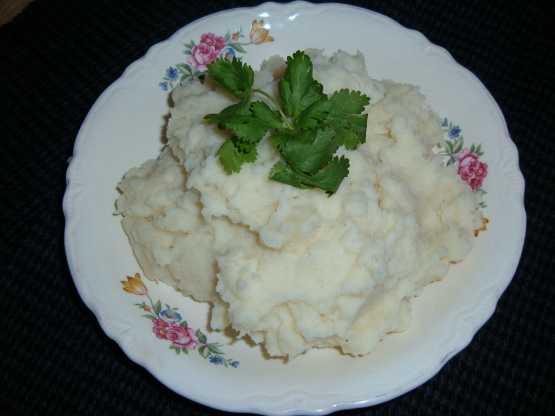 I got this idea from a friend of mine, who made mash potato for a party...I couldn't stop eating it!

This was one of my choices for the My Three Chefs challenge. I have made a similar recipe adding Montreal Steak Seasoning to them. These were wonderful. I did use 4 large potatoes so I naturally added more butter, closer to 6 Tablespoons. I will make this again.
Cut potatoes in half, then each half in quarters -- should come out with eight pieces per potato (Just cutting so they cook faster. Amount of pieces is not important).
Place potatoes in sauce pan or pot with just enough water to cover.
Bring to boil and simmer until potatoes are done (about 20-30 minutes). Drain water.
Place potatoes in medium bowl and add remaining ingredients to your taste. Mash the potatoes.
Beat in enough half-n-half to make potatoes light and fluffy. Add maybe a tablespoon at a time so you don't add too much liquid.
Please note that if you taste it before the cream is added, it will taste salty.