Mashed Garlic & Onion Potatoes
Derf2440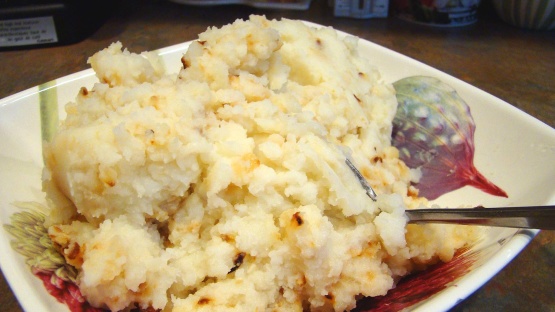 Garlic lovers unite! This is a really tasty way to serve potatoes but you have to like garlic and onions.

Wonderful Bergy! You know me and gahhhhhlic so this was great. Only think I did different is leave some of the skins on. I served this with a garlic & herb pork roast and oh la la! Thanks!
Cook potatoes until fork tender (about 30 min).
While potatoes are cooking, heat olive oil in a medium skillet over medium heat.
Add garlic and onions, cook, stirring frequently until soft and golden (about 10 min).
Drain potatoes, reserve 1/4 cup liquid.
Cool potatoes until you can handle them to slip off the skins.
Cut potatoes into quarters and return to the saucepan.
Add 1/4 cup potato water, milk, salt & pepper.
Heat mixture until heated through (about 5 min).
Mash potato mixture until smooth.
Stir in onion/garlic & thyme.
Spoon potatoes into a serving dish; drizzle with butter and serve.