Mash Potato and Stuffing Balls
SEvans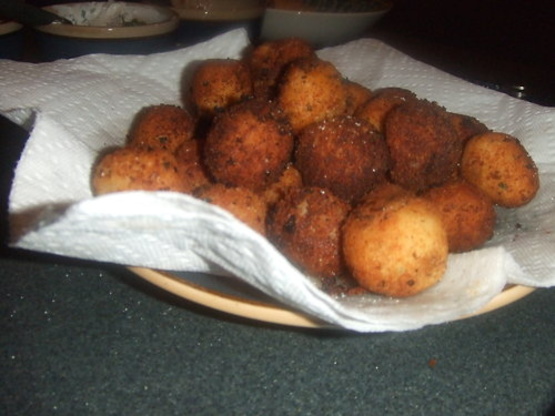 Don't you hate it when you have a little leftover but not quite enough - and you really don't want to throw it away - so don't - here's an idea for just such an occasion. Mash Potato and stuffing balls - crispy on the outside and nummy and heavenly on the inside.
Combine leftover mashed potatoes, leftover stuffing, one egg, and approximately 1/2 of the bread crumbs.
This particular recipe yields 10 ping-pong-ball size stuffing balls, but you can change the recipe to whatever suits your family, and depends on the amount of leftovers you have. The consistency of the balls should be sticky, but not UBER sticky.
Roll the balls in the remaining bread crumbs to coat evenly.
Set aside until all the balls are ready.
Heat oil in a pan; the oil should be half way up the ball in the pan, so use approximately 1/2 to 1 cup of oil, depending on the size and depth of your pot or pan.
Fry for 2 or 3 minutes until golden all over, rolling around as needed.
Let rest on paper towels until you are ready to serve.
That's it; super simple and REALLY tasty.