Mascarpone-Stuffed Peach Pastries
ImPat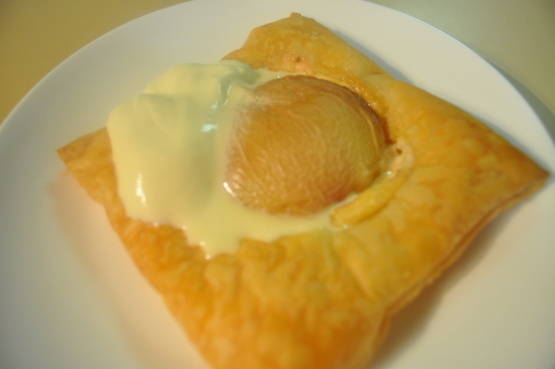 Adapted from Taste magazine

Top Review by ImPat
I scaled this back to use 2 peaches with the DM and I getting a 1/2 peach each and the DS getting two halves and served with a dollop of cream. Unfortunately someone had eaten the orange so could not add any zest but will certainly try to do so next time as the splash of orange juice did not do it justice and the zest would just add more depth to the flavours. I was a little lazy and just quartered the sheet of pastry and left it at that, baked in a 200C fan forced oven and they took 20 minutes to be a lovely puffy golden colour. Thank you Evie* made for ZAAR Chef Alphabet Soup
Combine the ground almonds, mascarpone, brandy and orange zest in a bowl. Mix to combine and put in refrigerator until required.
Preheat oven to 220°C
Cut 12 rounds of pastry 3cm larger in diameter than the peaches.
Fill each peach cavity with about 1 Tbsp of the mascarpone filling so it spills over the cut side of the peach. Put a peach half, cut side down, in the centre of each pastry round and gently press down.
Generously dust with icing sugar, then bake for 17-20 minutes or until golden and puffed.
Cool slightly before serving, dusted with more of the icing sugar.