Mascarpone-filled Figs or Apricots With Amaretto
awalde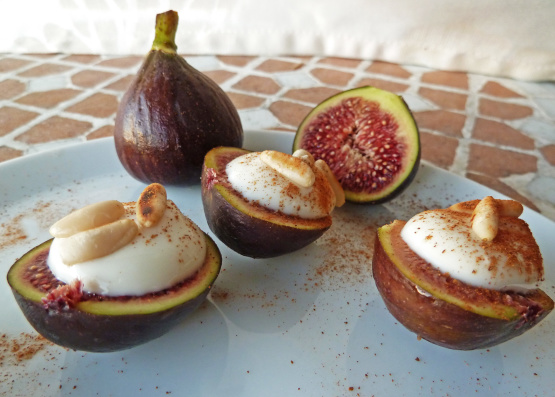 Figs stuffed with mascarpone cheese are a classic late-summer dessert in Italy. If you can't find mascarpone, substitute with cream cheese.

Top Review by awalde
I used for this recipe the last figs form the garden...in November!
If the fall is mild, we get the real figs only now and not like in Greece in August.
These figs were small (only one inch sized), very sweet and dry.
For the cream I used "Philadelphia balance" adding sugar and amaretto dirctly in the cream.
Topped with pinenuts and cinnamon were delicious. Like small "truffles" and real jewels.
Evelyn, thanks a lot for this dream recipe!
Blend mascarpone, sour cream and confectioners' sugar in food processor until smooth.
Cut deep slit in each fig; squeeze gently to open; spoon cheese mixture into each fig or mound on each apricot half; sprinkle with nuts, then cinnamon; drizzle amaretto over and serve.