Mascarpone Brownies With Honey Chocolate Sauce
katew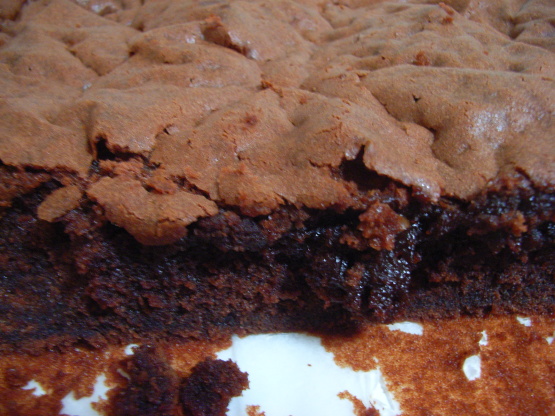 Found this at gildedfork.com who asked Baker's Edge to come up with a recipe and "here is the wonderful combination of honey and mascarpone! Let's see, if you won't faint over this indulgent array of ingredients. The brownies are excessive enough but with the warm sauce it is even better!" As if you could improve upon this awesome flavor." Update: 05/20/2008 A reviewer made these comments about the baking times. "However, in a 9x13 pan, 45 minutes is way too long for them. I baked them for 30 minutes, and they were still slightly overdone around the edges. Next time I will bake them for 25 minutes."

Top Review by WiGal
Loved the brownie part-definitely one of the best brownies I have made! Made a half batch, baked in 9 inch square pan a bit less than 25 minutes. But my sauce did not turn out like photos elsewhere on web showcasing this recipe-I followed the directions for making sauce to the letter and it was very heavy and bumpy-not pourable. So I refrigerated it thinking I would figure out why. The next day the oil had separated from the chocolate so I did some research on oil separating and followed advice I found. I warmed some additional cream while rewarming the sauce. I did not measure how much warm cream that I ended up using, I slowly added the warm cream. Guessing it might have been a 1/4 cup and it still was not a smooth pourable sauce. Then I looked at SPACHE THE SPATULA and culinography.wordpress.com web sites where you see pictures posted of recipe WITH sauce and found what might be my problem? Both sites said to use semisweet chocolate not unsweetened chocolate. Interesting that where you see a picture posted using the sauce they say they used semi sweet chocolate. Thank you Manami for sharing. Made for Dessert Event in Photo Forum.
BROWNIES:.
Preheat oven to 350ºF.
Spray the Baker's Edge pan(9x9" or 9x13") with non-stick cooking spray.
Combine the flour, baking powder, and salt in a small bowl.
Melt 1/2 cup butter with the chocolate.
Meanwhile, in the bowl of a mixer using a paddle attachment, beat the mascarpone, 6 tablespoons of softened butter, and the sugar until light and smooth.
Add the eggs to the cheese mixture one at a time and scrape the bowl thoroughly after each egg is added.
Add the vanilla and mix.
Add the melted chocolate and mix just until combined.
Finally, add the dry ingredients and mix slowly until just combined.
Pour into prepared pan and bake approximately 45 minutes or until toothpick is inserted and comes out clean.
Remove from oven and allow to cool.
NOTE: The brownies will rise during the baking process, but after being removed from the oven will collapse to normal height.
PREPARE THE SAUCE:.
Heat the heavy cream in a saucepan over medium heat just until starting to boil.
Remove the pan from the heat and add both types of chocolate.
Let the chocolate sit a minute and then stir until completely melted; add honey.
Place brownie on plate and drizzle with sauce; then eat and enjoy!