Mascarpone and Chives Mashed and Baked Potatoes
diner524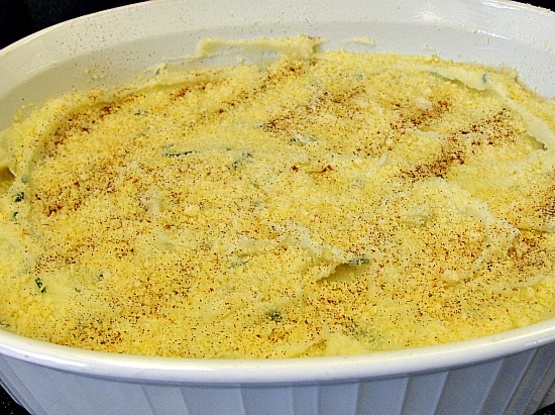 This recipe comes from another Kindergarten teacher in my school. These are out of this world delicious and great with steaks or a prime rib dinner. If you need to, you can substitute cream cheese for the mascarpone.
WONDERFUL!!! We really loved these potatoes!! Served along with your roast beef recipe for DD's Bday dinner. I personally loved that I could make these up the day before the dinner, that was how I could take photo's and it made it much easier the day of the dinner to just pop it in the oven for 30 minutes towards the end of cooking the main dish. I was worried that the mascarpone cheese would make the potatoes rather sweet, as I have only used it in sweet recipes, but along with the chives, parmesan cheese and paprika there wasn't a sweet flavor at all. They are just delicious, thanks so much for sharing a great recipe!!! Made for PAC Fall 2011.
Place potatoes in a large pot and cover with water. Bring to a boil over medium-high heat and simmer until the potatoes are tender, 20-30 minutes. Drain thoroughly and return them to the pot in which they were cooked. Return to the heat briefly to evaporate any excess water that may still be clinging to the potatoes.
Using a hand-held electric mixer, beat the Mascarpone cheese and butter into the potatoes until thoroughly incorporated and fluffy. Beat in the chives or scallions and season with salt and pepper.
Transfer the potatoes to a shallow 1 1/2 to 2-quart gratin dish. Sprinkle the Parmesan over the top and then dust evenly with paprika. Cover the potatoes with plastic wrap and refrigerate for UP TO 48 hours before heating.
When ready to heat the potatoes, bring them to room temperature and preheat oven to 350°F Bake the potatoes until hot, puffed, and light brown on top, about 30 minutes. Serve at once.