davianng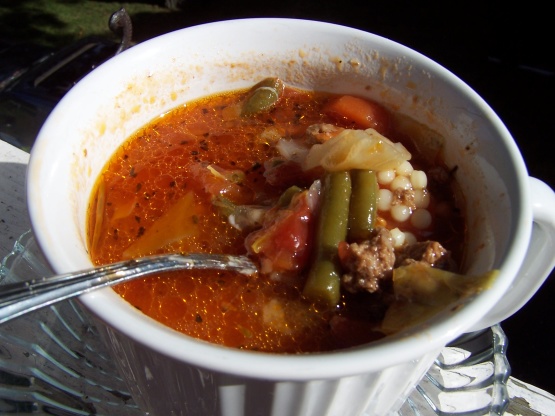 This is my Mom's recipe. Very easy, very good. I had a successful mail-order business years ago packaging the spices, pasta, cheese and recipe. The veggie measurements are "guesstimates" as I don't usually measure! I also vary the veggies according to what I have on hand - the only thing I've ever used that didn't work was beets.This also freezes well.
Boil pasta according to package directions, drain.
Brown ground beef and onion.
Add potato, carrot, corn, celery, cabbage, tomatoes, water, tomato sauce, salt, pepper, basil and thyme.
Bring to boil, lower heat and simmer 1 hour or more.
Add pasta.
Serve with fresh grated cheese.
Better the next day, so make ahead if you can.