Trixyinaz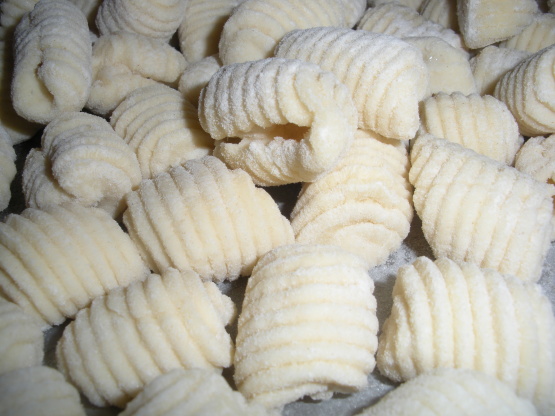 The gnocchi I grew up with. This is made with cheese instead of potato, so it's a bit lighter. Prep time includes 30 minute resting time for dough.

This is almost the exact recipe I use, which I got from my mom's cousin. For each pound of Ricotta, I use only 3/4 pound of flour. Everything else is the same. I also buy fresh ricotta from the Italian Market and let it "drain" for a few days before using it so that might be why I only use 3/4 lb flour - it's not as "wet" as the grocery store containers of ricotta. I've stopped using my mom's potato gnocchi recipe and switched to this because it is lighter and much easier to make. I'll post pictures of the gnocchi I made yesterday....instead of using a floured board, I use this gnocchi wooden block with ridges on it. Gnocchi making has never been so easy....not sure how I lived without this before! P.S. I freeze mine also and just pull out what I need. Throw them in the pot of boiling water frozen and wait until they float - about 5 minutes if that! Thanks for posting, now I don't have to post mine!
Mix ingredients.
Knead dough in bowl until it comes away from the sides.
Divide into 4 balls.
Let sit for 30 minutes.
Using a floured board, take one ball out and cut into long strips and then into one inch pieces.
Press middle of each piece with 2 fingers - rolling a bit toward yourself - to curl gnocchi.
Place on cookie sheet to dry slightly.
Place in boiling, salted water for a couple of minutes to cook.
You know they are done when they float.
Serve with tomato sauce and grated cheese.
Tip: my mom used to freeze them before cooking because she thought they retained their shape better.