Bev I Am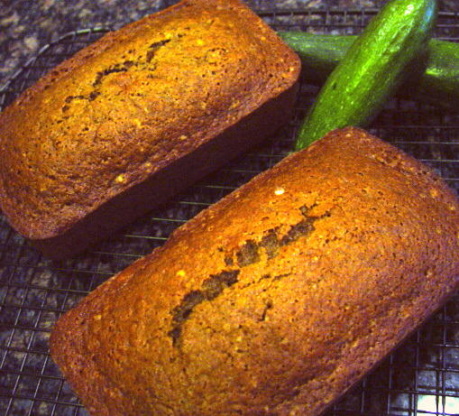 This is my mother-in-law's favorite recipe and for very good reason! This recipe makes two very moist and flavorful loaves. I hope you will enjoy it!

This bread came out wonderfully moist. It's very good--I would highly recommend it. My family really took to this bread. It took my oven about 1 hr and 5 minutes to bake. I also added 1/2 c. chocolate chips to one batch. Very delicious!
Place eggs, oil, zucchini and vanilla extract in blender and puree.
Sift together sugar, flour, baking soda, salt and baking powder and cinnamon.
Pour liquid ingredients into dry and mix.
Add nuts.
Divide batter into two loaf pans.
Bake at 325F degrees for 1 hour.