HisPixie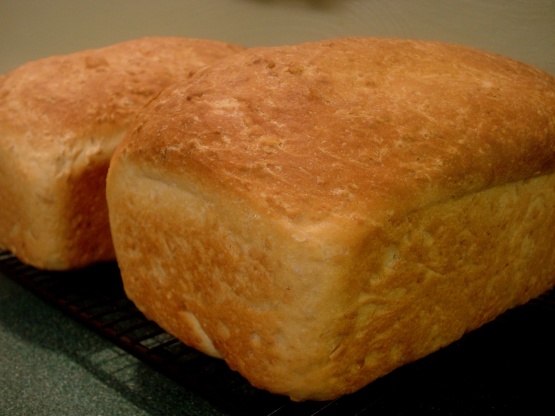 The Hills's were a family of 9 total and not wealthy. This bread was made often because as the box back then said "Oats, the breakfast food that saves money at lunch and dinner too".

I made this wonderful bread with half whole wheat and half white flour. I used my Kitchenaid mixer with the dough hook and let the mixer kneed the dough for exactly 8 minutes. The bread is absolutely scrumptious! It rose so high and had a nice, soft texture that was also very hearty and filling. Thanks so much Mary. I will be making this bread again~ :-)
Dissolve the yeast in warm water. Combine milk and cold water, then heat in sauce pan. Pour the hot liquid over the butter, sugar and salt; stir until butter melts. Cool till lukewarm. Stir in 2 cups flour, dissolved yeast and oats. Stir in enough additional flour to make soft dough.
Turn out onto lightly floured surface; knead about 8-10 minutes or until smooth and elastic. Shape to form ball; place in greased bowl, turning to coat surface of dough. Cover and lets rise in warm place for about 1 hour or until double in size.
Punch dough down. Cover; let rest 10 minute Shape to form 2 loaves. Place in 2 greased loaf pans (9x5). Brush lightly with melted butter. Cover, let rise about 45 min or until nearly doubled in size.
Bake at 375 degrees for 45-50 minute.