GaylaJ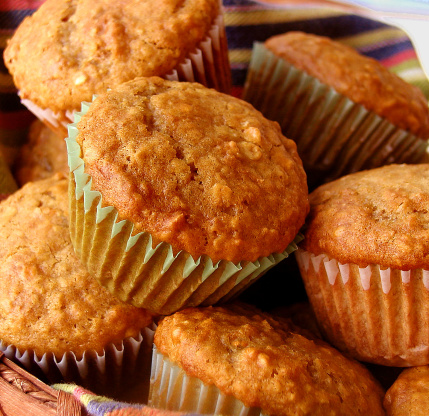 These are a very tasty, dense and moist muffin...A breakfast in themselves. You can use Whole Grain Total cereal in place of the bran flakes. This recipe is from my best friend up in Erie, PA. My recipe card is dated 1986.

I think these muffins are my latest favourite food find, they are wonderful! I did make a couple of changes, I used wholemeal self-rising flour, semi-skimmed milk (did not have buttermilk to hand) and added about 1/4 cup of wheat bran to the mixture. I got about 12 muffins from the mixture. I froze some and they still tasted great when defrosted, even my 12 year old DS likes them! Thanks for posting this recipe Deely.
Stir all ingredients together.
Bake at 350* about 20 minutes or until they spring back to touch.
NOTE: This batter can be stored in the fridge for up to 2 weeks.