Maryland Fried Chicken With Milk Gravy
diner524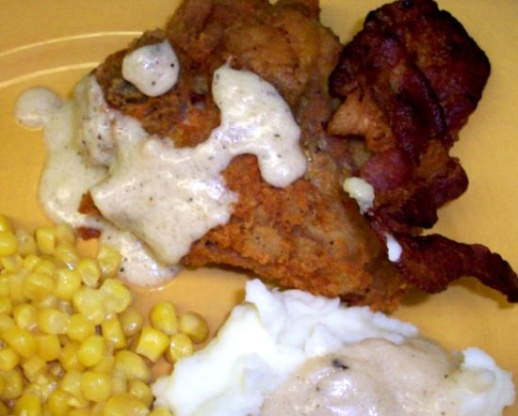 It's been a while since I've made this. I got it out of a BG&E cookbook a number of years ago.
Absolutely wonderful fried chicken and gravy!!! I loved the addition of the bacon flavor!!! I followed the recipe as written, except using all chicken thighs. I served the chicken with mashed potatoes and corn, for a total comfort meal!!!. Thanks Jim for sharing this great recipe!!! Made for you win in the football pool.
Fry bacon in large skillet until crips; drain on paper towels. Reserve fat.
Add enough oil to bacon drippings to make 1 inch fat in skillet. Combine 1/2 cup flour, salt and pepper in a plastic storage bag; shake to combine.
Add chicken pieces to bag; coat well. Shake off excess.
Heat fat until hot but not smoking; add chicken pieces. Brown on all sides. Reduce heat; cover and cook over low heat, turning once, for about 20 to 25 minutes or until fork tender.
Remove chicken and keep warm. Remove all except 3 tablespoons fat from skillet; stir in remaining flour.
Cook over medium heat until bubbly. Gradually pour in half and half, stirring constantly. Cook until mixture is smooth and thick. Adjust seasonings. To serve, pour gravy over chicken and garnish with bacon strips.