Mary Jarrell's Pound Cake
Nimz1466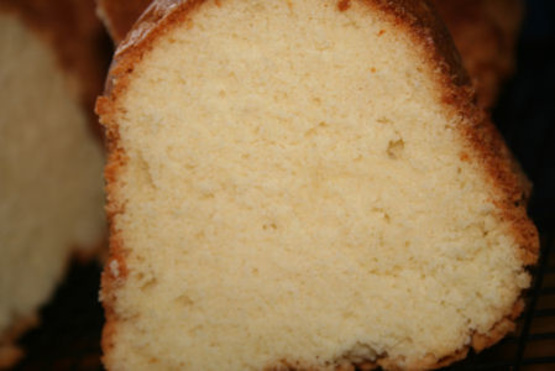 This is a recipe for the BEST POUND cake I have ever had. This was my Grandmothers recipe. She recently passed at the ripe old age of 100 and I think she would have liked to share this with the world. She would bake 10 of these at a time and give them to everyone including the mailman, paperman and anyone she would meet. So since she is no longer to bake them, I will spread the joy she would have this way. Please give it a try. Serve it plan, with your favorite fruit, ice cream or chocolate sauce or whatever you would like. The possibilities are limitless. Or better yet make two and give one as a gift.

This cake was a huge hit! I made it for my son's birthday and we barely had any left over. I felt like it was good on its own, but some people ate it with ice cream or some strawberries in sugar. I want this to be the only pound cake recipe I use from now on. Thanks!
Preheat oven to 300 degrees.
Grease and flour one 10" tube pan or two 9"x5"x2 1/2" loaf pans.
Cream margarine slowly adding sugar.
Add sifted flour, baking powder, and salt alternately with milk.
Add vanilla and almond extract last and blend until well mixed.
Bake for 1 hour and 50 minutes or until done.
Turn out of pan(s) immediately and cool on wire rack.