Bev I Am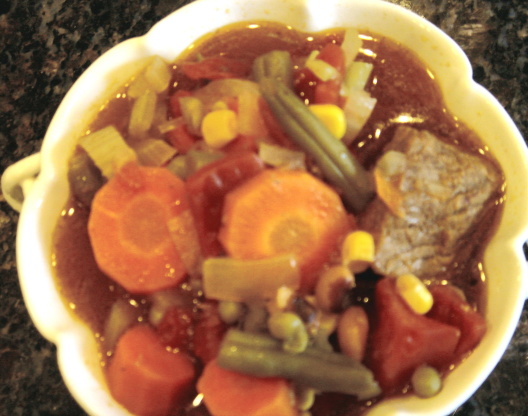 I've tried all kinds of vegetable soup recipes and always come back to this one. So easy to do with the use of a food processor to slice the vegetables. This is a great basic recipe. Please feel free to alter it to suit your taste. I sometimes use vegetable broth or beef broth in place of the water which gives the soup a richer flavor.

This is far and away the best vegetable soup I have ever had. When I eat it I feel like I am at home wrapped in a warm blanket. I am convinced this soup has special healing powers for winter maladies. It is better after it has aged in the refridgerator for a day.
Brown beef in hot oil in a heavy, large stock pot; add 3 cups water.
Bring to a boil, reduce heat; cover and simmer 1 1/2 hours.
Add carrots and remaining 3 cups water; bring to a boil; reduce heat, cover and simmer 15 minutes.
Add remaining ingredients; cover and simmer additional 35 minutes, stirring occasionally.
Yield: about 8 quarts.