lazyme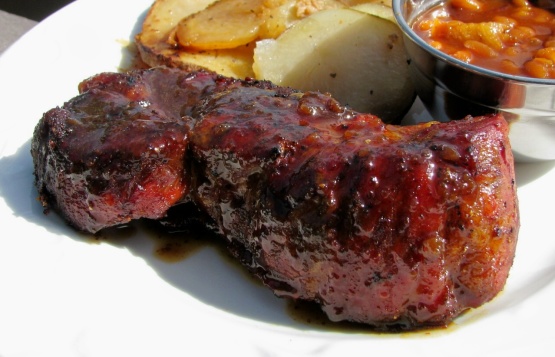 This has been my most favorite rib recipe for the longest time. My DS and DD have always requested this dish when they come home during the summer.(BBQ time!!) I hope you will enjoy this dish. It is from a cook book called "HOT & SPICY" by Better Homes Gardens that I picked up at the store. I have a couple of excellent recipes out of this book. ENJOY!!! Cooking time includes chill time.

Great ribs! The spice rub and sauce both provide great flavor. I did use a different cooking method...I wrapped the ribs (covered in spice rub) in foil and baked at 300F for 2 hours then brushed on the sauce and put them under the broiler for a few minutes. Everyone enjoyed them and they didn't last long. Made for PRMR.
Combine: sugar, pepper, paprika, curry powder, and salt in a bowl.
Rub spice mixture over ribs, coating well.
Place ribs in shallow pan.
Cover and chill for 2 to 6 hours.
Arrange medium coals around a drip pan in a covered grill.
Test for medium-low heat above pan.
Place ribs, fat side up, on grill rack over drip pan but not over coals.
Lower grill hood.
Grill about 1-1/4 hours or until tender, turning once, and adding more coals as needed.
Meanwhile, for the sauce, combine brown sugar, vinegar, onion, mustard, garlic, honey, liquid smoke, and celery seed in a medium saucepan.
Bring to a boil.
Reduce heat and cook, uncovered, for 40 to 60 minutes or until slightly thickened, stirring occasionally.
Brush sauce over ribs occasionally during last 10 to 15 minutes of grilling.
Heat any remaining sauce until bubbly and pass around with ribs.
(I cook these ribs on my propane gas grill and they come out just fine.).