Rita~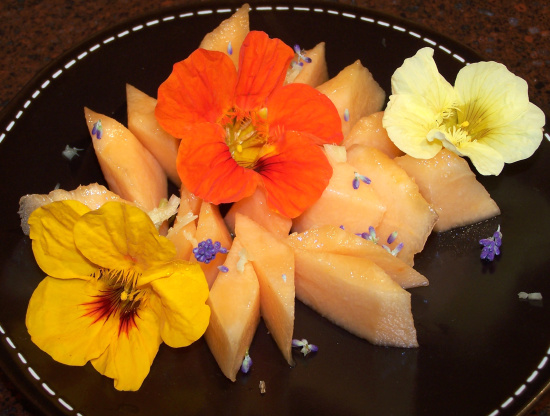 This is a delightful waker-upper and a great favorite at The Congenial Quail Inn in Tucson Arizona, and so easy!

Awesome. Who knew that ginger and cantaloupe were best friends. Really enjoyed it. What a healthy little dessert this evening! Made as a recipenap for VEG*N Swap Aug 2009. Thanks Sharon! (No photos, as Rita's is so stinkin cute).
1

ripe melon (such as Casaba, Cantaloupe, or Honeydew)
1⁄2 inch fresh gingerroot
fresh mint and fresh edible flower, such as pansy to garnish
Slice melon into serving wedges and scoop out seeds.
Cut along the rind to free the flesh, then cut across and lengthwise into attractive bite-sized pieces.
Peel 1/2 inch or so of the ginger root and grate onto melon wedges.
Garnish, and serve.