Marvelous Marinated London Broil
tonydr58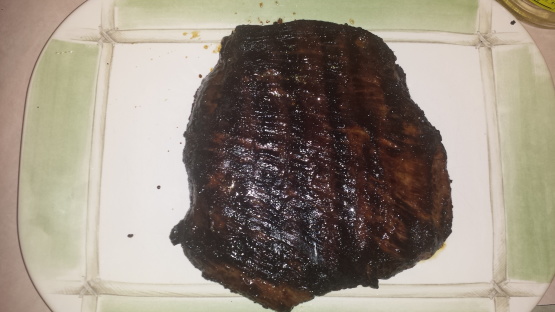 This steak turns out moist and flavorful. I found this recipe in my local newspaper many years ago.

Top Review by Dawnab
I had company this week end, put the meat into the marinade Fri nite, grilled it Sat and it was PERFECT! 6 people for dinner all give it 5 stars AND had a recipe request. Loved the "being ready in advance" aspect of this recipe, our plans changed several times due to weather, but we were able to come home and relax and toss this on the grill when we were ready. I cooked a 3# broil on the grill for 10 minutes on low for each side (it was about 4" thick)and it was cooked perfectly. Thanks for a keeper!
Pour the honey into a 2-cup glass measure. Microwave the honey, uncovered, at high, 30 seconds to make it pour easily.
Remove the measure from the microwave and add the oil, Worcestershire sauce, soy sauce, lime juice, garlic and onion powder. Whisk to blend well.
Place the meat in a gallon-size zipper-top plastic bag. Whisk the marinade once more and pour it over the meat. Seal the bag and turn the bag several times to cover the meat with marinade. Refrigerate 8 to 24 hours, turning the bag at least once, if possible.
Turn on a gas grill to medium high.
Remove the meat from the marinade and discard the marinade. Grill the meat, covering the grill to the desired doneness, 7 to 10 minutes per side for medium-rare, depending on the thickness. Do not overcook.
Remove from the grill and slice across the grain. Serve at once, or let stand until ready to serve. Refrigerate leftovers, covered, up to 3 days.