Marvellous Mini Meatloaves (With Options!) OAMC
Pamela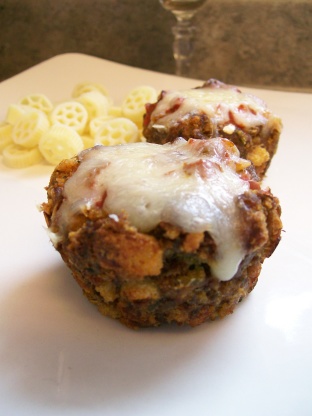 A perfect addition to your OAMC collection because you can start with the base recipe and then make 1 or all of the variations so that you don't feel like you are eating the same thing for every dinner. This recipe is great for singles too because the mini loaves are individual servings and you can take out as many or as few as you need.

This were great! I made the italian and fiesta versions for us and a modified version for a friend who just gave birth to twins (and has 3 other kids already!). I made two recipes altogether, one for her (just used chedder cheese) and splitting the other one so I ended up with 6 of each version. I used a whole box of stuffing mix for each recipe and jumbo muffin tins. When filling the tins, I pushed a hole in the center, put the fillings in and then added a bit more of the meat mixture, sealing the hole. It worked out really well! The stuffing gives it such a great flavor. I loved both versions, but I loved the fiesta one a teeny bit more. :) Thanks for a fantastic recipe for a new OAM cooker!
Preheat oven to 375 degrees.
Mix meat, stuffing mix, or bread cubes,water, and seasoning (choose one: italian seasoning, OR chili powder, OR oregano OR garlic powder) until well blended.
Press evenly into 12 greased muffin tins.
Make a small indentation in the middle of each with the back of a spoon.
Fill the indentation with your choice of filling. (Choose one: pasta sauce OR salsa OR roasted red peppers OR BBQ sauce following the version of your choice.).
Bake for 30 minutes or until loaves are cooked through. Top with the cheese specified in the recipe of your choice and bake 5 minutes or until cheese is melted.
Let stand 10 minutes before removing from baking pan.
For OAMC: Remove from baking pan and let cool. Flash freeze on a cookie sheet until frim. Transfer to a labeled ziploc bag. To serve: Defrost overnight, then reheat in oven or microwave until heated through.