Martha's Chicken Soup With Parsley Dumplings
Jostlori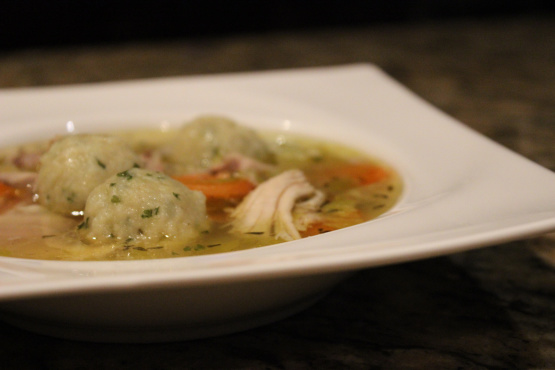 This recipe came from a Martha Stewart magazine.The dumplings in this are unusual, with lemon zest, and cornmeal. I love them, but remember that the taste and texture of the dumplings is different from standard dumplings. I add more parmesan cheese to the mixture, but I will post it as it is in the recipe. I used the shallot the first time, but it is just fine without, or replaced with a minced onion. I cook the chicken first, but the recipe doesn't specify.
Chop chicken, celery, carrots,onion, and mince garlic.
bring two quarts water, chicken, carrots,onion, celery, garlic, bay leaf, stock, and some salt to a boil.
reduce heat to medium-low. simmer 20 minutes.
add thyme.
In a mixing bowl, whisk cornmeal, flour, baking powder, parsley,1/2 tsp salt, shallot, zest and cheese.
cut butter into small pieces, add butter to mixture with fingertips, until mixture resembles course meal.
add milk, and stir until a dough forms.
roll into 1 inch balls, add all at once to simmering broth.
cover, simmer undisturbed, for 20 minutes.
don't forget to remove the bay leaf before serving!