Martha Stewart's Macaroni and Cheese
Parsley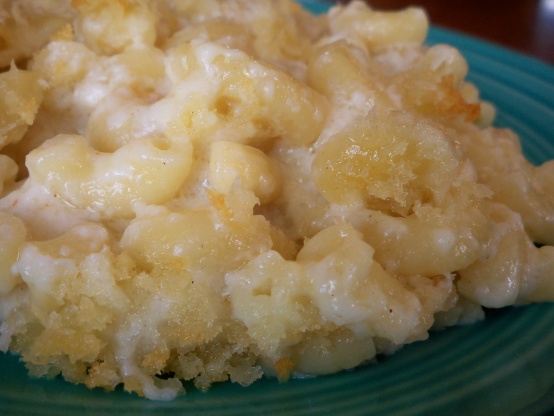 This recipe makes enough for two 2-quart or eight 12- to 16- oz. baking dishes.

Really yummy! I didn't use the freezing method, I just prepared and baked this right away. I was happy that this stayed moist and creamy after baking. I baked this at 375 for about 35 minutes. I also doubled the spices. I think the key is using a high-quality sharp white cheddar-no preshredded stuff. Thanx for posting!
Cook pasta in a large pot of boiling water 1 to 2 minutes less than package instructions. Drain, rinse with cool water, and return to pot.
Meanwhile, heat 4 T. butter in a medium saucepan over medium-high heat. Add flour; cook, whisking, 1 minute. Add milk, cayenne pepper, nutmeg, and 2 t. salt; bring to a simmer. Cook, whisking, until mixture is thick enough to coat the back of a spoon, 2 to 3 minutes. Whisk in cheeses until smooth. Pour over pasta; toss to coat. Divide among baking dishes.
Melt remaining 2 T. butter; toss with breadcrumbs. Sprinkle over pasta. (Cover tightly with plastic wrap; freeze up to 3 months.).
Preheat oven to 375. Place frozendishes on a baking sheet; remove plastic. Cover with foil. Bake until bubbling, 60-70 minutes for large dishes, 40-50 minutes for small. Remove foil; continue baking until golden, 5 to 10 minutes more.