Martha Stewart's Lemon and Caper Mashed Potatoes
ChefLee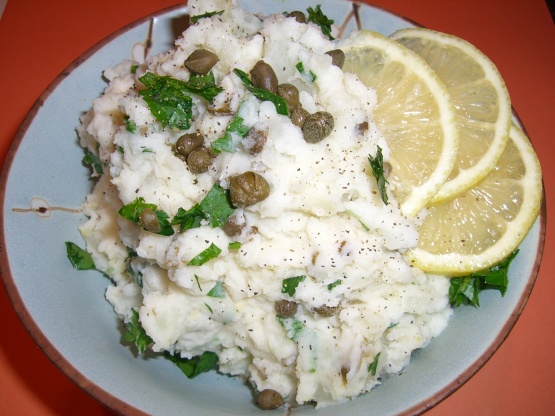 Really delicious! The lemon zest adds a nice dimension and a complex flavor that reminded me of gremolata. We used small russet potatoes, didn't even bother peeling them, and it was still great.
Place potatoes in a large saucepan, and fill with enough water to cover potatoes by 1 inch. Bring to a boil over high heat.
Add a generous amount of salt; reduce heat to a simmer. Cook until potatoes are tender when pierced with a paring knife, about 15 minutes.
Drain; place the potatoes back in the pot and using a potato masher or potato ricer, mash potatoes.
Meanwhile, in a medium saucepan over medium heat, combine 5 tablespoons butter, milk, lemon juice, zest, and capers.
Heat until butter is melted and the mixture is warm to the touch.
Fold the milk mixture and parsley into the mashed potatoes, and season with salt and pepper.
Dot with remaining tablespoon butter just before serving.
Easy!