Parsley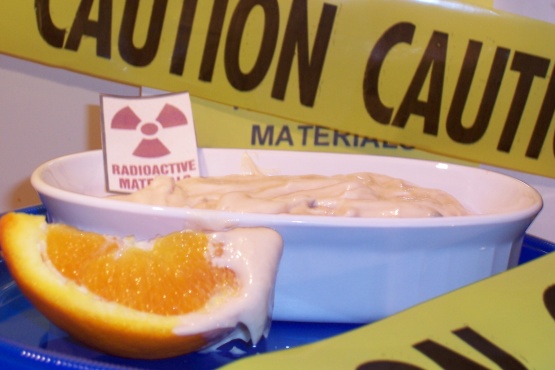 A 50's staple if you lived in a quonset hut or fallout shelter and the nearest grocery store was 25 miles away. The ever beatifully outfitted and coiffed housewife would surely have these ingredients on hand! A piquant afterburn the likes of which cannot so much be described as experienced. A real treat for all risk-taking gourmands. You'll be belchin' Dixie!

Eureka! I think this is the dressing that the cafeteria at Grove City College served alongside a mixture of peaches and blueberries. I couldn't get enough of it -- but I am quite depressed to discover that it contains that evil of evils, Miracle Whip.
In serving bowl mix all ingredients together well. If fluff doesn't blend well, nuke a few seconds or set outside your fallout shelter overnight, loosely covered.
Refrigerate for at least an hour.
Use as a fruit dip-bananas, apples, cantaloupe; or for mortar.
*Be sure to use non-irradiated oranges for the zest.