Marshmallow-Fruit Squares
loof751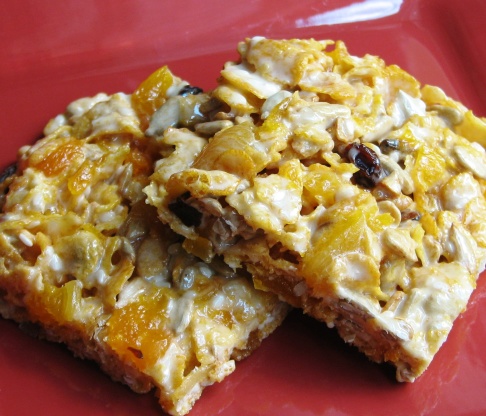 This recipe is another wonderful weight watcher recipe. I make these to take when we go hiking and also to take to work for snacks. They only have 3 points.

This is a very different and unusual breakfast or snack bar. I thought the sesame seeds gave it an odd taste and would leave them out if I made this again. Even after 45 minutes in the fridge my bars were still not very firm although they did hold together. These are filling, fairly healthy and definitely WW-friendly - thanks for posting!
Spray a 10x6" baking pan with nonstick cooking spray.
In a large nonstick saucepan over low heat, melt the margarine.
Add the marshmallows and cook, stirring constantly until the marshmallows are melted, about 5 minutes.
Remove from the heat; stir in the cornflakes, apricots, sunflower seeds, almonds, dates, sesame seeds and vanilla.
With moistened hands, press the mixture evenly into the baking pan.
Refrigerate covered until firm at least 30 minutes.
The cooking time is the 5 minutes cooking plus the 30 minutes in the fridge.