Marshmallow Crisp (Microwave Rice Krispies Squares)
Redsie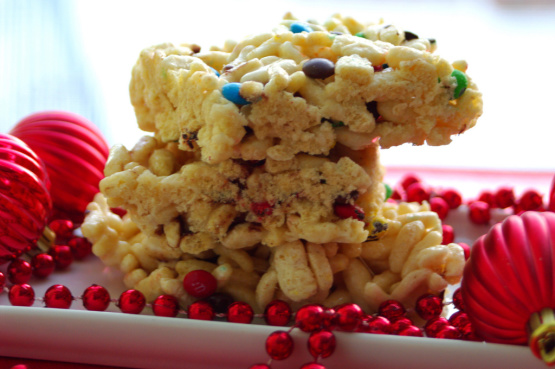 I can't believe I can't find this here, so I'm posting it. I make these all the time and have done so for a good 20 years. I think I got the recipe from the Rice Krispies box, but when I checked their current microwave recipe, it's not quite the same. These are always chewy and delicious -- and easy!

Very simple and quick way to make Rice Krispies treats...they turned out perfect!! Thanks for posting.
59.14

ml butter

283.49

g package large marshmallows (see directions for other quantities)

1182.95

ml crispy rice cereal (like Rice Krispies)
If you want to use large marshmallows, the recipe says to use an entire 10-oz package, or 40 large marshmallows. I always use 4 cups of miniature marshmallows, however.
You will need a buttered (I just use nonstick cooking spray though) oblong pan and a large casserole dish with a lid that can go into your microwave. If you use a 13x9 pan your squares will be very flat, so my personal preference is to use a smaller pan so I get thicker squares.
Place butter in casserole dish and microwave until melted, about a minute or so on High.
Add marshmallows, stir, and cover. Microwave on High for 2 minutes, remove and stir, then re-cover and microwave for about another minute or so, until marshmallows melt. Stir until well blended.
Add cereal and stir until well coated. I use a wooden spoon.
Transfer mixture into prepared pan. Wet your hands a bit under the tap, shake off excess water, then use your hands to flatten cereal mixture into the pan. Dampen hands again if mixture starts to stick.
Set aside to cool and set up, then cut into squares. Keep covered tightly if you have leftovers.
Variation: after you add cereal, you can also stir in one cup of chocolate chips or a chocolate candy like M&Ms.