Dorel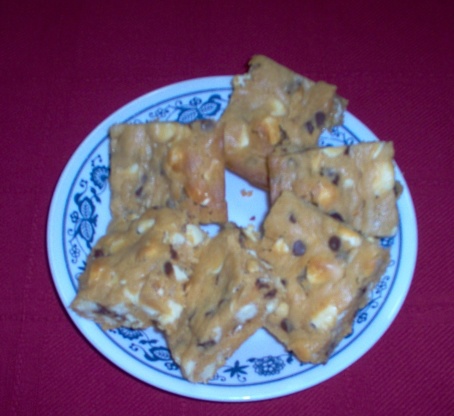 These brownies are the all time favorite at our house and everyone else loves them too. The recipe originally came from a '97 TOH but I have made it so many times for so many people that it's known as "my" recipe, wish I had made it up! My only suggestion is don't let them over cook.

wow, were these good & sweet. A very different take on brownies, didn't think you could make brownies without unsweetened cocoa powder!
In a small saucepan over low heat, melt butterscotch chips and butter.
Remove from heat and cool for 10 minutes.
In a mixing bowl, beat eggs, brown sugar and vanilla.
Add butterscotch mixture and mix well.
Combine flour, baking powder and salt.
Add to batter and mix well.
Stir in marshmallows, chocolate chips and nuts.
Spread into a greased 13X9 baking pan.
Bake at 325 degrees for 25-30 minutes or until brownies test done.
I watch for the sides to pull away from pan and it is"set" when the pan is jiggled back and forth.
The toothpick test works but not as well as the other because of the marshmallows.
Cool completely before cutting into bars.