Marshmallow Brownie Dreams
Pamela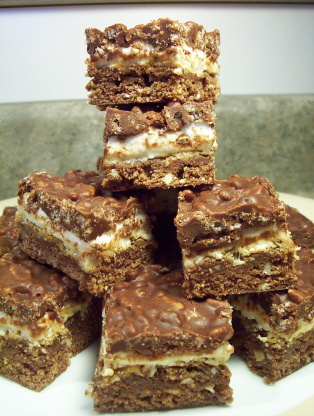 I received this recipe from my Christmas Bake Exchange. These are delicious and add a really special touch to any Christmas platter

Holy cow these are great!!! I made as written and made as dessert to my family of 6 and 6 teenagers. My pan made 20 generous slices and all are now gone. My husband and children are upset there is none left for tomorrow. Looks like I am baking them again, perhaps even again tomorrow. I wish I were apart of your Christmas bake exchange!! Thanks Pamela for posting the recipe.
Bottom Layer: Cream butter and sugar in a medium bowl.
Add eggs, 1 at a time, beating well after each addition.
Add vanilla and beat well.
Combine flour, cocoa, baking powder, and salt in a small bowl and add to butter mixture.
Beat on low until just moistened.
Stir in peanuts.
Spread evenly into a greased 9 X 13 inch pan.
Bake at 350 degrees for about 15 minutes or until edges start to pull away from the side and a wooden toothepick comes out clean.
Remove from oven.
Middle Layer:Spoon dabs of peanut butter over bottom layer.
Let stand for 3-4 minutes or until softened.
Carefully spread a thin layer.
Arrange marshmallows evenly over peanut butter.
Bake for about 4 minutes or until marshmallows are slightly puffed.
Remove from oven.
Pat marshmallows down to and even layer with a greased spatula.
Cool for 15 minutes, until the marshmallows are firm and not sticky.
Top Layer: Heat butter and peanut butter in a large saucepan until melted.
Add chocolate chips.
Heat and stir until smooth.
Add cereal.
Stir until coated, pour over middle layer, and spread evenly.
Chill for about and hour until set.