Marmie's Version of Halibut Florentine
Marmies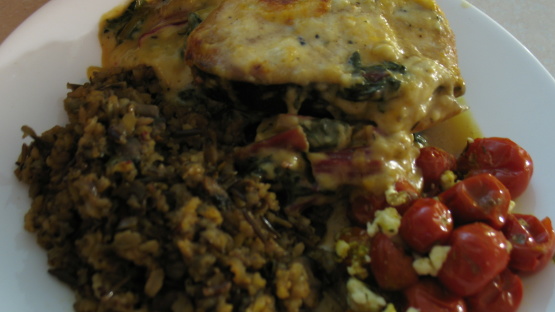 I was enthralled by Pvt Amys Mom's recipe of Halibut Florentine, but was lacking so many ingredients... so working on that I ended up with this! Thank you pvt. Amys mom...I cant wait to make your recipe. My Hubby adores this and thinks it is absolutely company worthy!!! LOVE IT! and I usually do not love my own cooking...my own worse critic and all...
In large frying pan, melt 2 tablespoons butter and saute 4 crushed cloves garlic 4 minute
Add chard stems and cook 7 minutes untill a little tender.
Add chopped Chard leaves and simmer 5 - 8 min untill leaves are wilted, not cooked.
Remove from pan and set aside.
In same pan, melt 2 Tablespoons butter,
add 2 tbsp flour and mix till smooth.
Add 3/4 cup milk slowly and simmer to make rue.
Add 3 Tablespoons Parmesan to milk, stir.
Add 1/2 cup tex mex cheese and blend gently.
Place Chard in bottom of casserole dish.
Place Halibut on top of Chard.
Pour White sauce over halibut.
Bake 350 degrees F for 20 min.
Remove and sprinkle 1/2 cup tex mix over top.
Broil another 7 min or so untill nicely golden.