Marmie's Even Leaner, "fat Burning Soup"
Marmies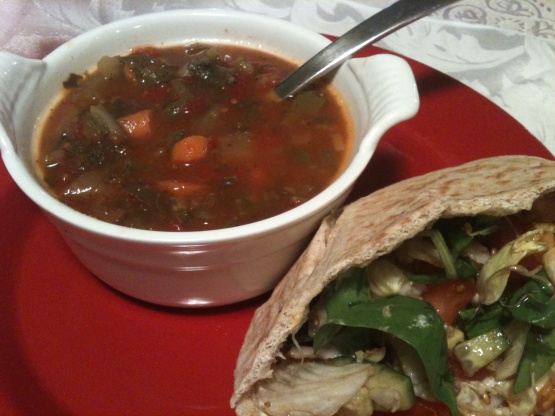 This is a very easy recipe that I have changed over the years many times, (this time there is no added salt, fat or sugars, but loads of herbs and flavor). This is a spin off of my Marmie's No Cabbage Fat Burning Soup. (That one was used to help overweight patients lose weight before surgery.) In an effort to further reduce fat's and salt I adapted my old recipe yet again! No Salt added, no sugar added, no fat added, ... I like that! It is pretty much a 'free food' when I am dieting. We like to have a bowl for lunch or before a meal, such an easy way to get in our daily vegs on a regular basis. P.S. start with a lower amont of chili paste and pepper if you don't like much zip... as well - herbs and seasonings are to taste ... we just like these ones best. Half the fun of cooking is to create your own version of a dish...Add chicken perhaps to compliment the sage undertone? Enjoy!
Dice and combine all ingredients in large dutch oven pot, except frozen green beans and spinach.
Bring to boil for 10 minutes.
Reduce to simmer for 1 hour until vegetables are almost cooked to desired.
Now add frozen beans and spinach, simmer until cooked (10 min or so).
Freezes well for individual servings.
Enjoy!
(If you are not doing a fat free version -- Parmesan or Mozzarella cheese to garnish are really tasty! Looking for more protein? What about a bit of chicken or some lentils? Both are yummy versions!).