Marmie's Delicious Asain Flavor, Low Cal, Low Fat Vegetable Soup
Marmies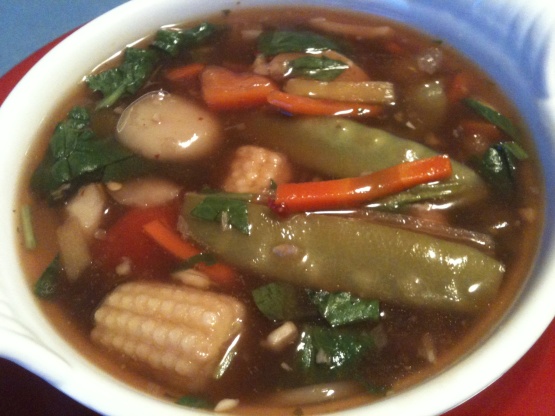 Amazingly delicious, low calorie, low fat, somewhat spicy, oriental flavor diet soup! A really nice change from the tomatoe based diet soups. This makes a huge dutch oven full. I like to eat it all week when ever I am hungry as a snack, for lunch or before dinner as a low calorie nutrishious fil-me- upper. (To further reduce sodium I would suggest home made chicken or vegetable stock and reduce the soya a bit. It does change the flavor some but would reduce sodium if that were a concern.) A person could also add a few rice noodles and shrimp or fish or chicken for a balanced meal. What would be easier than that?!

Fabulous low cal soup! I thought it tasted a lot like Hot & Sour Soup, but without the tofu. My frozen Asian veggies were different from the Europe's Best Brand, but I still felt it turned out great. Using the frozen veggies made this quick to prepare, so it was great for making after work. Loved the rice wine vinegar and red pepper flakes in this. Also loved the tip to let the bamboo shoots sit in the ingredients a bit before proceeding....really gave them a chance to soak up some flavor. Thanks for sharing! Made for Fall PAC 2011.
Saute first 4 ingredients together for 5 min, add mushrooms for another few min untill almost tender.
Add next 5 ingredients and set aside. (Bamboo will absorb more flavors from peppers and soya if allowed to sit for a few minutes.).
Chop spinach and set aside.
Mix water and corn starch in a seperate bowl or cup untill smooth.
Replace pot on stove, add water & cornstarch mixture to soya and bamboo mixture, cook till somewhat thickened.
Slowly add chicken stock and bring to boil.
Add oriental vegetables, simmer about 4 minutes,.
Add spinach and simmer untill spinach is just wilted.
Enjoy your guilt free soup!