Marmie's Baked/Grilled Stuffed Greek Style Tomatoes
Marmies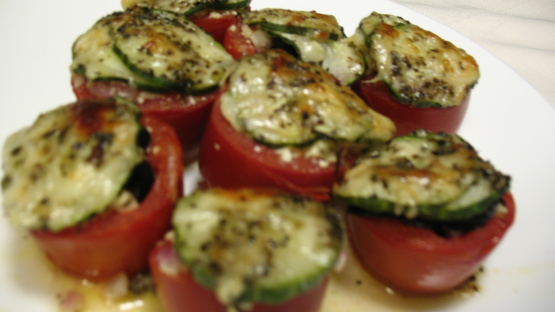 Inspired by a Stuffed Greek Tomatoes posted by Mikey Tuscon. I loved his recipe cold ...such a neat "Greek Salad" I had made a whole Greek meal including a typical Greek salad so I thought these would be wonderful warm instead...so as to to enhance the sweetness of the tomato. Amazing! They make the perfect appy! So easy to prepare ahead of time, a real time saver when entertaining. I have made them several times now and I think you will like them. Serve with garlic cheese bread, yummy!
Mix onion, feta, olives, fresh ground pepper to taste, 1 - 2 Tablespoons EVOO (and garlic if desired here as opposed to on top of tomato) together and let sit until ready to stuff tomato.
Cut tomato in half width ways and gently remove seeds with a grapefruit spoon.
Thinly slice a flat edge from the top and the bottom of the tomato, (to stabilize it on the pan) and sprinkle inside tomato with a pinch of kosher salt. (Tip: should you cut too much off the bottom of the tomato and you are concerned the filling will seep out -- take the sliced off part and place inside the bottom of the seeded tomato).
Fill each of the 12 tomato halves with the onion and cheese mixture from step 1.
Drizzle a bit of EVOO on top.
Add a cucumber slice to top of each stuffed tomato.
Add a sliver of garlic to top of cucumber (if you have chosen not to put it directly into the cheese mix).
Add a bit of basil on top of garlic (or cucumber as needed).
Sprinkle a bit of EVOO on top again.
Sprinkle with fresh parmesan and ground pepper if desired.
Set tomatoes on a foil pan and cover with tin foil.
Indirectly grill on the BBQ on high for 20 - 25 min until semi soft or bake in oven at 350°F for 20 minutes or until tender but not too soft.
NOTE - indirect heat on the BBQ is when you light only one side of the BBQ and place item to be cooked on the other.
Serves 6 - side vegetables or 12 - Appys.