Marmie's Asparagus Pea Pasta With Bacon and Feta
Marmies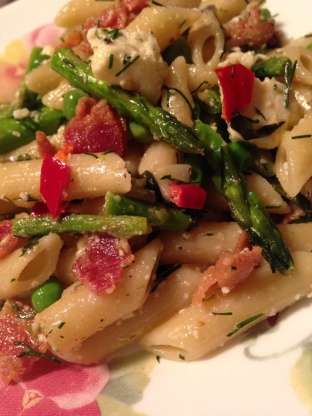 I found a recipe somewhere on the internet and thought it looked really great, but as usual.. I can't leave well enough alone so I started tinkering and made a hardy pasta dish that is delicious both hot and cold :) I can only imagine how yummy some salmon or even leftover chicken would taste in this as well...(When I find the original poster of my inspiration, I will share it here)
Boil pasta until el'dante according to package directions, then drain and set aside.
Meanwhile --
Fry bacon in large fry pan or dutch oven until moderately crisp then remove bacon from pan and set aside, leaving bacon fat in pan.
add butter, to frying pan (there was very little bacon fat in the bacon I used).
saute onion, garlic and hot red pepper aprox 3 min - don't brown. only until slightly cooked.
spoon away bacon fat and butter and reserve in case needed.
add Basil flavored EVOO to pan.
add asparagus to pan, saute 2 min longer.
add peas to pan, saute 2 more min if frozen. 1 min if fresh.
add Feta, Dill, Lemon. basil and pepper to pan with drained pasta.
Toss all together and serve warm or cold :).
(This would taste fab with a salmon fillet broken up and tossed through as well).