Marmalade Rye Bread A-B-M
WiGal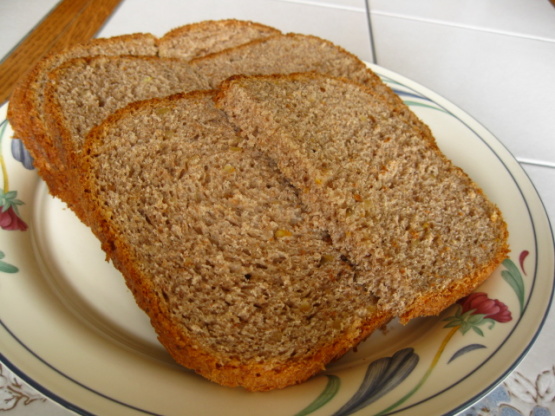 Fragrant orange marmalade rye bread, with toasted walnuts -- for an added punch of flavor, I sometimes add 1/2 teaspoon cinnamon! Make as one two-pound loaf, if you prefer! :) The first time I made this bread, due to a family emergency, I had to pull the dough out of the machine before it heated for the first rise. I refrigerated the dough overnight, and the next day let the dough come to room temperature and rise, punched it down, and shaped it into two loaves to rise again before baking in my oven.

Loved this bread. I used to make one similar but had sourdough. This one is easier but still has the great flavor. Served with breakfast and Recipe #21881.
Place wet ingredients into pan of the bread machine.
TOAST walnuts in dry hot iron skillet, stirring constantly until fragrant ~ be careful not to burn!
Chop walnuts and put into large bowl to cool.
Measure flours, vital wheat gluten, and powdered milk into bowl with chopped walnuts ~ Stir to mix.
Place flour mixture into pan of the bread machine, on top of wet ingredients.
Place yeast into one corner of bread machine pan, on top of dry ingredients.
Place salt into opposite corner of bread machine pan, on top of dry ingredients.
For baking in oven ~ SELECT DOUGH CYCLE. (See description if you want to refrigerate dough overnight for a slower rise and a delayed bake in the oven).
TO BAKE IN BREAD MACHINE: SELECT WHOLE WHEAT CYCLE; 2-LB LOAF; LIGHT CRUST. ~~~~ NOTE: I HAVE NOT BAKED THIS IN THE ABM!
TO BAKE IN OVEN:.
Shape dough into two one-pound loaves and let rise until doubled in size.
Bake at 375F for metal pans; 350F for Pyrex or glass ~ bake 20 minutes; cover loaves with foil and bake for 10-15 minutes more!
For a soft outside crust, brush hot loaves on all surfaces with melted butter.