Mark Tewksbury's "Fire" Steak
Bergy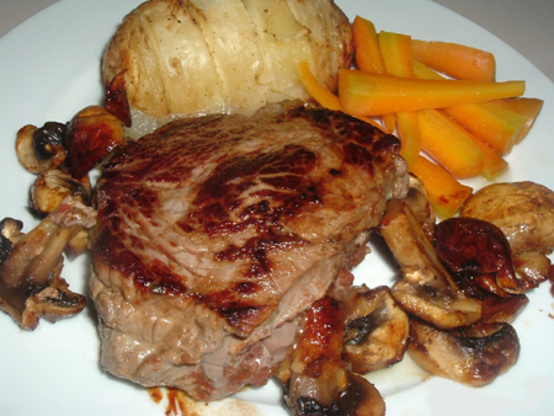 Found this tucked into an old cookbook, from Reader's Digest, can't see a date on it, but must be early '90s. Sounds very good, will probably try it soon, now I found it.

Top Review by Bergy
This is a tasty recipe - A "do again" recipe. I used what I call a hairnet steak, It is sirloin, cut to one serving size, with webbing around the out side.I cut through the webbing in the middle on one side and stuffed it. Only did one steak but the recipe is easy to scale back. I used cottage cheese instead of sour cream. Thanks Derf for another winner
Cut steak into 4 equal portions.
Make a pocket in each portion by sliting one end open with a knife (be careful not to cut through the other side).
Combine salsa, onion and garlic and spoon into pockets, skewer shut.
Season steak pockets with cumin and black pepper, barbecue or broil for 5 to 8 minutes per side, until desired doneness is reached.
Each portion may be garnished with extra salsa and light sour cream.
Serve with cornbread, steamed sweet red pepper rings and asparagus spears.