Marinated Zucchini Salad - Easy and Healthy
jenne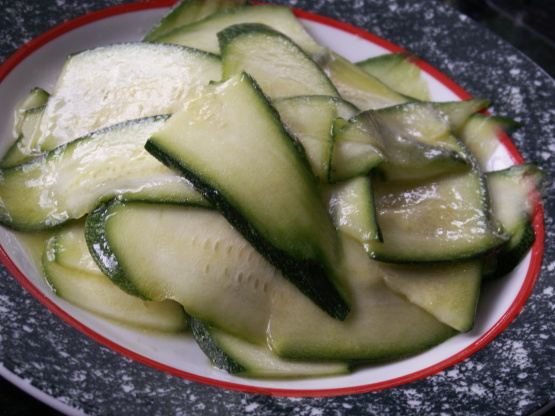 I am always on the hunt for healthy recipes and new ways to use vegetables that I already like. I never really think of not cooking zucchini but this sounds good. It is the recipe of British TV chef Merrilees Parker and was first published in the August 2005 issue of BBC Good Food Magazine.

Top Review by Gaia22
Super simple & tasty addition to my raw recipes! I split the recipe in half. Furthermore, I didn't want to use so much oil, so I also split the "sauce" part in half again (while still maintaining the ratio of oil to lemon juice). Plus, my zucchini wasn't so large anyways. Worked out perfectly! To recap, I used 1 med. zucchini, 1 tbsp evoo, 1/4 fresh lemon juice, salt & pepper. Also, I tasted one before I let it sit for 15 minutes and -wow- what a difference 15 minutes makes! It's very tangy before it sits and nicely well-blended after. Thank you for sharing! :)
Using a vegetable peeler or a mandolin, slice the zucchini into long thin ribbons and place in a shallow serving dish.
Whisk the lemon juice with the olive oil in a small bowl and season generously.
Drizzle over the zucchini ribbons and leave to marinate for 15 minutes before serving.