Marinated Zucchini in the Style of Naples
GaylaJ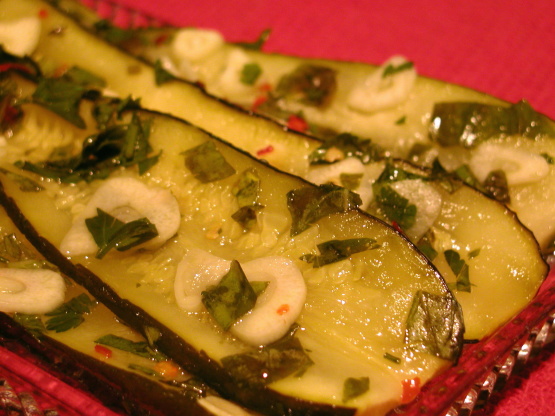 I love this sweet, spicy zucchini from Mario Batali. It would be wonderful anytime, but I think it is especially refreshing during the hot summer months. This needs to be made a day in advance; allow 2 hours for the zucchini to drain and 24 hours to marinate.

This is the best zucchini dish I have ever tasted. I cut the sugar back to one forth cup and sometimes use champagne vinegar. I think they are more like a pickle and use them on antipasto platters, on hamburgers or as a side to egg or tuna salad. Yummy!
Cut zucchini lengthwise into 1/3-inch thick slices; place slices in a colander, sprinkle with salt and set aside to drain for 2 hours.
In a large saucepan or skillet, heat the olive oil over medium heat; gently cook the zucchini slices until golden brown on both sides (about 3 minutes per side), being careful not to burn them (you will probably have to do this in more than 1 batch).
In another saucepan, bring the vinegar and sugar to a boil over high heat; add a pinch of pepper flakes and a pinch of salt.
Place the zucchini slices flat in a shallow bowl, with the garlic slices, basil and parsley scattered throughout.
Pour the vinegar over the zucchini slices and let marinate, covered and refrigerated, for at least 24 hours before serving.