Marinated Walla Walla Sweet and Red Onion Rings
teresas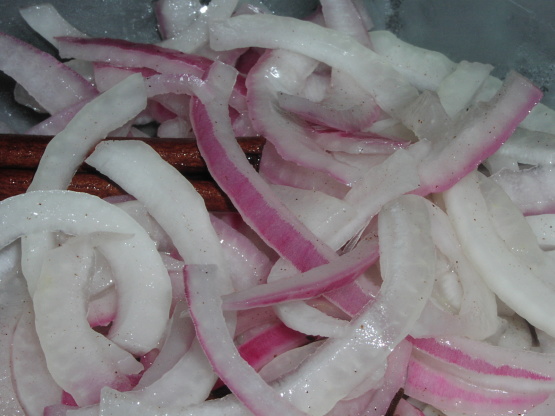 This is from an old booklet put out by the Walla Walla Gardeners Association. Walla Walla is in SW Washington state.

Wow! these are good! So easy to prepare. I was surprised that the red onions mellowed out during marinating. They were so strong when I was slicing them that I had my doubts. I could only locate jumbo onions in both flavors. So cut my rings in quarters this also made it easier to eat. Thanks mikekey for a wonderful recipe.
Put all ingredients except onions in a saucepan (non-aluminium), cover and simmer for 10 minutes.
Separate onions into rings. Place in an oblong baking pan (glass or non-aluminium) or large casserole.
Pour hot liquid over onions. Cover and chill at least 4 hours.
Drain and serve.