Marinated Veggie Beef Kabobs
Boomette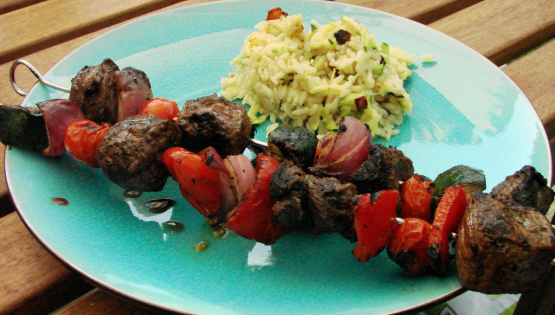 These colorful kabobs are a wonderful way to showcase fresh veggies from your garden. Each bite is tender and flavorful, and the aroma is amazing. This is a recipe I found in TOH magazine and posting for safe keeping. Time doesn't include marinading time, so allow at least 2 hours for marinating, but more is better on the flavor. Feel free to add any veggies of your choice.
In a small bowl, combine the first eight ingredients. Pour half the marinade into a large resealable plastic bag; add beef. Seal bag and turn to coat.
Pour remaining marinade into another large resealable plastic bag; add tomatoes. Cut remaining vegetables into 1-in. pieces; add to bag. Seal bag and turn to coat. Refrigerate beef and vegetables for at least 2 hours.
Drain and discard marinade from beef. Drain vegetables, reserving marinade for basting. On eight metal or soaked wooden skewers, alternately thread beef and vegetables.
Using long-handled tongs, dip a paper towel in cooking oil and lightly coat the grill rack. Grill, covered, over medium heat or broil 4 inches from the heat for 10-15 minutes or until meat reaches desired doneness, basting frequently with reserved marinade and turning occasionally. Yield: 8 kabobs.