Marinated Vegetables With Feta
Katzen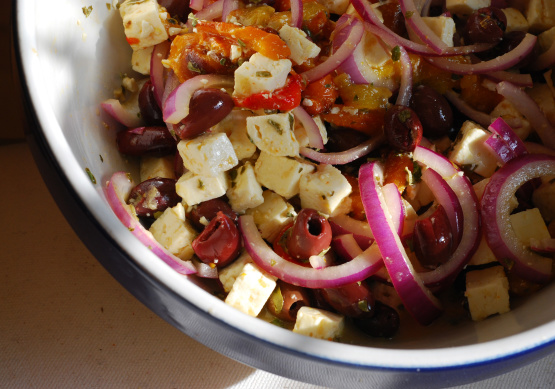 Can be prepared up to four days in advance. Simple and easy what more could you ask for. This Is a great lunch or a light dinner. Serve with pita bread or pita chips. You can buy roasted red peppers in a jar.

Top Review by Katzen
What a beautiful salad! This kind of simple and rustic dish reminds me of Greece - this would be fantastic with some hearty grilled flatbread. Definately a keeper! Thanks, bbblampwork for another great recipe! Made for PAC Spring 2010 - you were adopted!
Preheat oven to 450°. Cut bell peppers in half lengthwise; remove seeds and membranes. Brush the outside of peppers lightly with a little olive oil and place, cut side down, on a baking sheet. Roast for 20-25 minutes, until well blackened. When cool, remove and discard skins; slice peppers into 2-inch strips. (You can also blacken peppers over a gas flame, holding with tongs and rotating.).
Combine peppers, remaining olive oil, feta, and olives in a large bowl. Toss gently to coat completely. Add onion, garlic, vinegar, oregano, and salt and pepper to taste; toss again. Pour lemon juice over mixture. Refrigerate at least 3 hours.