Pamela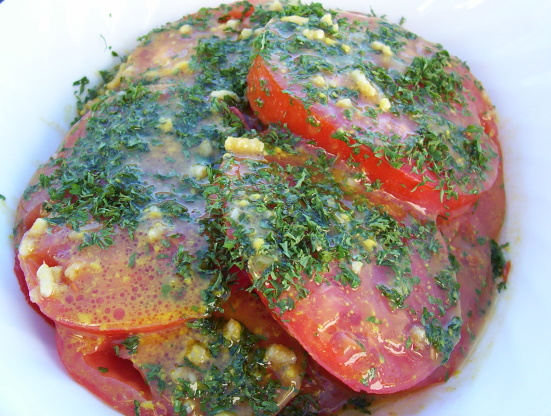 Try this when tomatoes are fresh from the garden

My mother gave me a big bag of homegrown tomatoes this weekend, so I used one in this salad. Instead of parsley (which we didn't have), I used some fresh basil. Also, I meant to scale the recipe to only 2 servings, but I ended up making a full batch of the salad dressing. The dressing was very delicious. I couldn't believe how tasty it was on this salad, and now we have leftovers to use it on another salad. This will definitely go in my recipe box to be made again and again. Thanks!
Arrange tomatoes in serving bowl; sprinkle with parsley.
Combine remaining ingredients in a jar with tight fitting lid and shake well.
Pour over tomatoes.
Cover and refrigerate for 30 mins.