GaylaJ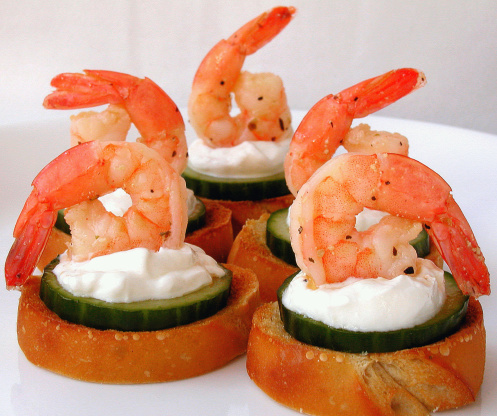 A lady I worked with many years ago gave me a recipe box filled with her recipes (she was a wonderful cook). This was one of her recipes. Great for a dinner party.
1

lb cooked medium shrimp (I buy the frozen, pre-cooked)

1

cup Italian salad dressing
1⁄2 pint sour cream

1 -2

large peeled cucumber

1

box garlic melba rounds
Marinated cooked shrimp for 1 hour in dressing in the refrigerator.
Drain and place shrimp on individual slices of cucumbers then place this on the Melba Rounds and top with dabs of sour cream.
Arrange on serving dish and refrigerate until ready to serve.