Bayhill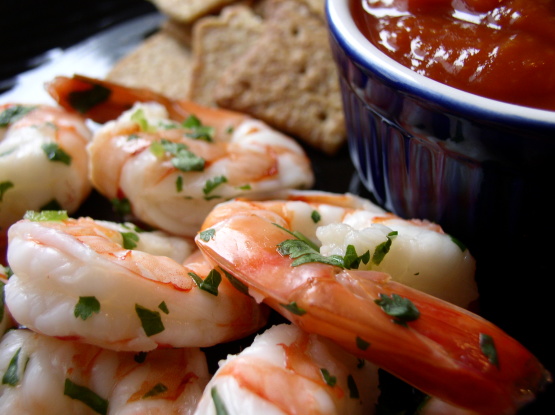 This appetizer can have a nice little kick (or not if you prefer).

1

lb large shrimp (uncooked and easy peel)

1 -2

cup water (enough water to cover shrimp by one inch)

1

medium sized jalapeno (deseeded, deveined, and chopped finely, optional ingredient!)

1

garlic clove (chopped finely)
1⁄2 cup water

2

teaspoons salt (kosher)

4

tablespoons fresh lime juice

2

tablespoons minced fresh cilantro (optional)

1

teaspoon Old Bay Seasoning (optional)
1⁄4 cup seafood cocktail sauce, for dipping

1

tablespoon chives (dried or fresh)
Using a medium sauce pot, place the shrimp in 1 inch (or more) cover the shrimp.
Bring to a boil.
Cover and immediately remove from heat. Set aside 1 minute.
Drain and rinse the shrimp under cold water to stop the cooking and put into a bowl.
Cut the jalapeños in half lengthwise, devein and deseed. Place in a bowl with the shrimp.
Toss with 1/2 cup of water, lime juice, cilantro, and salt to taste.
Cover and refrigerate up to 1 day ahead.
On day serving, drain the shrimp. Toss with Old Bay if using. Add different sized crackers and a tooth pick. Put dipping sauce beside the shrimp. Sprinkle chives on top.