Marinated Sea Bass With Cilantro and Ginger
PanNan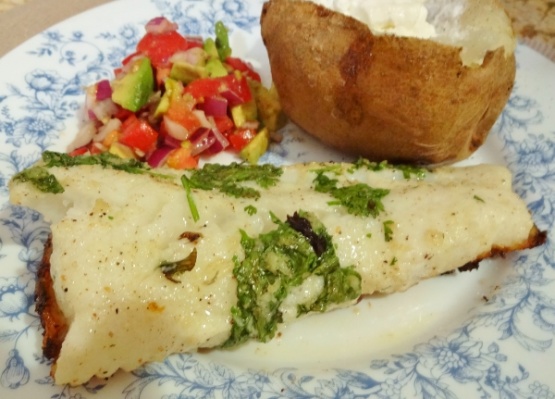 This is my favorite fish recipe. The combination of ginger and the cilantro is to die for. Just add some white rice and a rum punch and you'll think you're on a Caribbean vacation! Although the recipe says Sea Bass, you can use any mild flavored fish and have excellent results. I've tried this with grouper, snapper, mahi-mahi and cod. The recipe calls for 4 hours or marinating time, but I often only have about an hour - and it tastes great just the same! The recipe is from La Jolla Cooks, a fundraising cookbook for La Jolla Country Day School

Top Review by PanNan
Very tasty, mild, delicate and buttery fish with subtle flavors of ginger and lemon. I only marinated it for two hours in fear the lemon would "cook" the fish as in ceviche, however, it still absorbed a nice flavor. I seared the skin in a skillet on the stove, and basted the fish with the marinade, then I finished it in the oven for a few minutes until done. Made for Mike and the Appliance Killers ZWT9.
Mix all ingredients together in a shallow non-reactive container.
Marinate fish in mixture for 4 hours, spooning some of the mixture over the fish.
Grill fillets on the grill or on a hot griddle.
Baste with marinade on both sides until fish is cooked. (Don't use marinade on COOKED fish).