Heydarl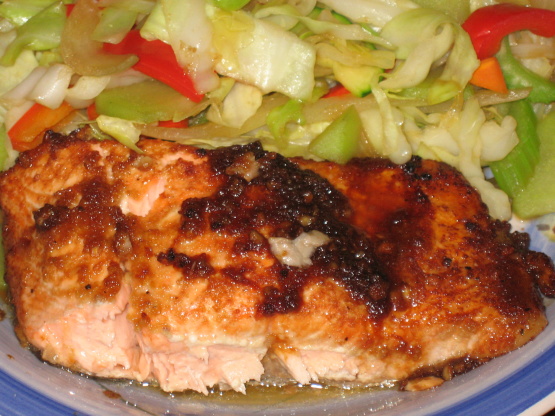 This recipe came from All Recipes.
Delicious! We really enjoyed the flavors that the marinade gave the salmon. I let it marinate for 2 hours and then I grilled in on the bbq for about 5 minutes each side. I made the rice in my rice cooker and used vegetable broth instead of water. Thank you for sharing this wonderful recipe. **Made for Culinary Quest - Suitcase Gourmets**
Make several shallow slashes in the skinless side of the salmon fillets.
Place filets skin-side down in a glass baking dish.
In a medium bowl, whisk together the olive oil, rice vinegar, soy sauce, brown sugar, garlic, pepper, onion and sesame oil.
Pour the liquid over the salmon, cover and refrigerate for 1 to 2 hours.
Preheat the oven to 350 degrees F.
In a medium saucepan combine the rice, water and dill weed.
Bring to a boil, then cook over medium low heat until rice is tender and water has been absorbed, about 20 minutes.
Remove cover from salmon, and bake in the marinating dish for about 30 minutes, or until fish can be flaked with a fork.
Serve salmon over the rice, and pour sauce over.