Hey Jude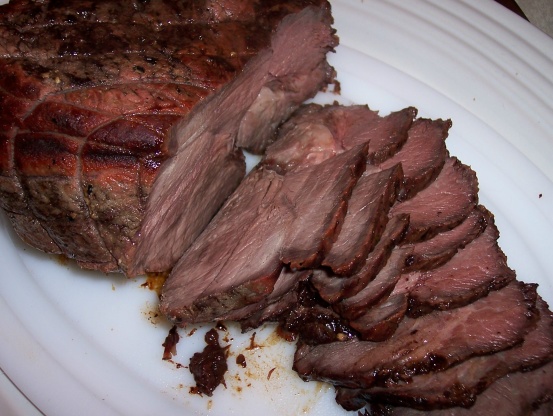 From Southern Living magazine.

Top Review by DeeDee
I made this for a dinner party on a Saturday and started marinating it Thursday night. I also used a 6-1/2 lb boneless prime rib roast and put it on a spit on the bbq. I put about an inch of water in a pan underneath to catch the drippings. (Can't waste the good stuff) This was the best roast I had ever made. The flavour of the marinade really made a difference - not to mention the gravy I made with the drippings. The only problem was I left it on too long and ended up with well done instead of medium rare. But it was still sooooooooo very tender and extremely tasty. I can't wait to make this again. Next time I'll make sure it's medium rare. Thanks for a simple recipe with such good flavour.
Pierce roast at 1 inch intervals with a meat fork, and place in a large zip lock bag.
Combine vegetable oil and next 5 ingredients; pour over roast in zip lock bag.
Seal and chill for 24-48 hours, turning roast occasionally.
Bake at 325 degrees for 1 hour and 50 minutes or until a meat thermometer registers 145-160 degrees.
Let stand for 5 minutes before slicing thinly across the grain.
Roast beef will be rare.