Kim127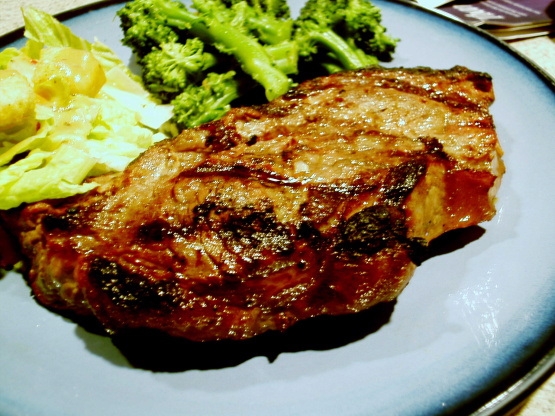 Excellent marinade for beef. I have used this with beef kabobs and my DH's favorite Ribeyes. The meat is so flavorful and tender and the reserved sauce is excellent on the side.

LOVED IT! Excellent, tasty, tender, and juicy rib eyes! I used this for 3 rib eyes, bone-in, and marinated for about 8 hours. I used shallots instead of the red onion, used cider vinegar, used only 1 tablespoon light soy sauce and added 1 tablespoon Worcestershire sauce, and also added 2 teaspoons brown sugar. I will definitely use this again, one of the best! I didn't even bother with the reserved sauce, didn't need it! Thank you for posting, Nimz!
In a large zip-lock bag, combine the first 9 ingredients.
Remove 1/3 cup marinade and refrigerate.
Pierce steaks several times on both sides with a fork.
Place in the zip-lock bag and turn to coat.
Cover and refrigerate overnight.
Remove steaks, discarding marinade.
Grill, uncovered, over medium-hot heat for 4-8 minutes on each side or until meat reaches desired doneness (for medium-rare, a meat thermometer should read 145 degrees; medium, 160; well done, 170).
Warm reserved marinade and serve with steaks.