Ms B.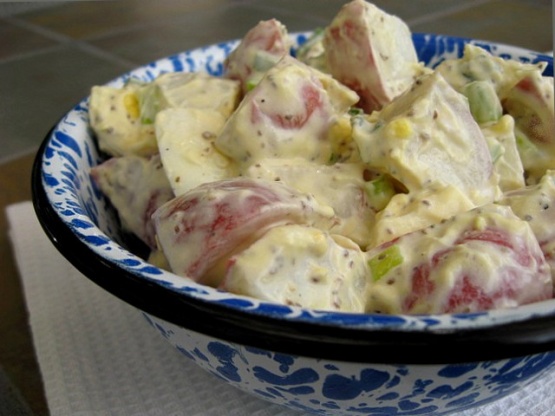 A different type of potato salad. It is slightly sweet. I have a favorite recipe with mustard, but sometimes, this just seems appropriate. Cook and prep time does not include 12 hour marinating time.

This was a huge hit at a recent cookout. My teenage nephews and their friends especially enjoyed this salad. I made as directed, but at Ms. Bold's suggestion cut the ammount of sugar in half. Thanks for a tasty slightly different potato salad. I made the entire recipe and was left with an empty bowl!
Bring a large pot of salted water to a boil.
Add potatoes and cook until tender but still firm, about 15 minutes.
Drain and allow to cool.
Slice cooled potatoes and layer in a large bowl or dish.
In a saucepan combine water, vinegar and sugar.
Bring to a boil and cook for one minute.
Remove from heat and pour over potatoes.
Cover and chill for at least 12 hours.
Drain excess marinade and add onions, eggs, salt, pepper, celery seed and mayonnaise.
Mix well and serve chilled.